What's New in Aerial Lift Equipment in 2023?
When repairing power lines, inspecting high and hard-to-reach areas, or lifting transformers and other heavy equipment, the objective is clear: How can line crews do their jobs safer and faster?
That goal has driven the development of several new products and upgrades released by top aerial platform and crane manufacturers in the past few months.
So, what new aerial lift products have come to market recently? How can they equip utility companies and contractors to improve crew safety and productivity? Here are six new developments to keep your eye on.
Elliott Equipment Co.
What's New: V63 HiReach material-handling aerial platform
Designed for a 19,500-pound chassis, the V63 HiReach offers a 40-inch-by-60-inch rotating aerial work platform, suitable for two workers and their tools, with a lifting capacity of up to 1,000 pounds.
The V63's 38-foot-wide side reach combined with zero tail swing optimizes the platform's operation within a single setup. Its 8-foot outrigger spread also allows for setting up the machine in tighter spaces.
The onboard remote diagnostics system provides real-time performance monitoring.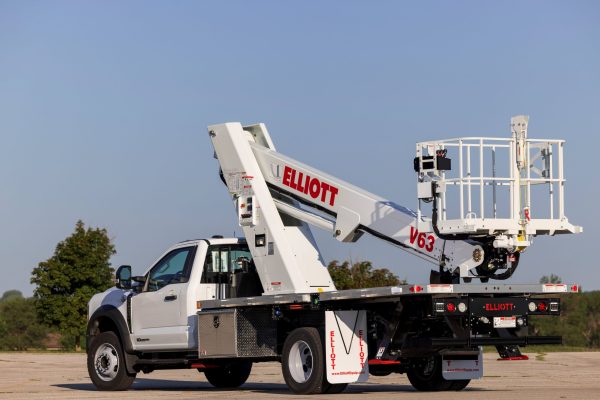 Terex Utilities
What's New: Z-60 Substation Utility Boom
At the 70th Anniversary Electric Utility Fleet Managers Conference in June, Terex Utilities introduced the Terex Z-60 Substation Utility Boom (SUB), which followed the earlier release of the Z-45 SUB in 2021.
The Z-60 SUB is designed for substation work and other applications where an insulated device is needed and an articulating z-boom is a more practical option than a bucket truck. Examples include working in tight areas where a truck's footprint is too large or applications that require a higher level of boom articulation. Its dielectric features isolate the boom tip from the chassis ground, reducing the need for boom-tip bonding.
The Z-60 SUB offers two operational modes. The unit can work a complete shift on a single battery charge in all-electric mode. And in hybrid mode, it has more than a week's worth of run time with a single diesel tank. The hybrid system automatically senses if the batteries need to be charged and will use the 24-horsepower diesel engine and the onboard generator to recharge the batteries.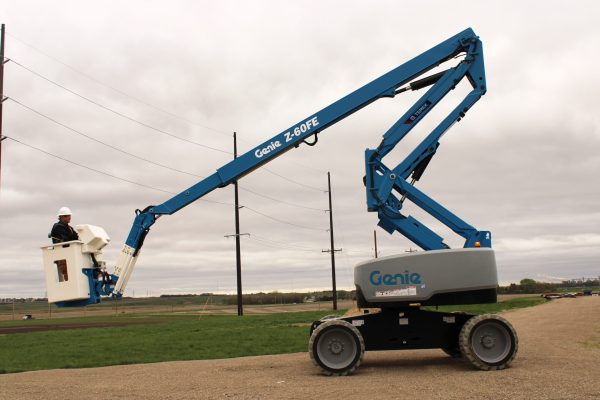 Altec
What's New: AC65E telescopic boom crane truck
Altec has introduced the AC65E, a telescopic boom crane truck with a six-section main boom that offers 155 feet of maximum extended length and a lifting capacity of up to 130,000 pounds. The unit can reach a platform working height of 216 feet when configured as an ANSI A92.2-compliant aerial device.
A two-stage hydraulic jib can be articulated from zero to -80 degrees with a rated load on the hook. The main boom features two selectable extension modes to maximize capacity close to the machine and farther away.
The machine also features a 12,500-pound hydraulically removable counterweight that increases load capacity at high-radius picks and allows for an easy, one-person installation and removal from inside the cab.
The 22-inch outrigger penetration and four-span options provide the flexibility to set up the machine on the most challenging terrain.
According to Altec, the AC65E is the only machine in its class under 40 feet long. It can be configured to comply with federal bridge laws so that it can travel without additional permits.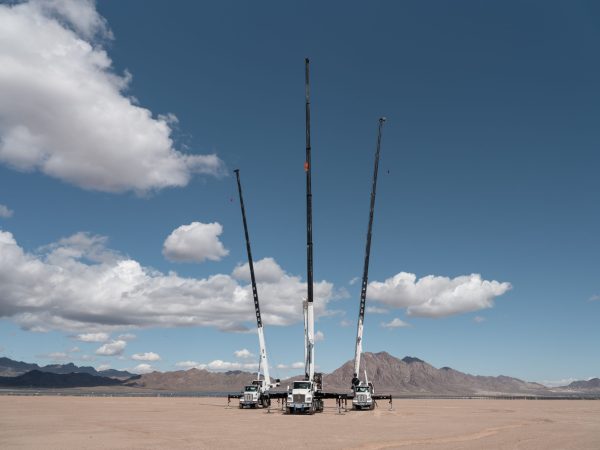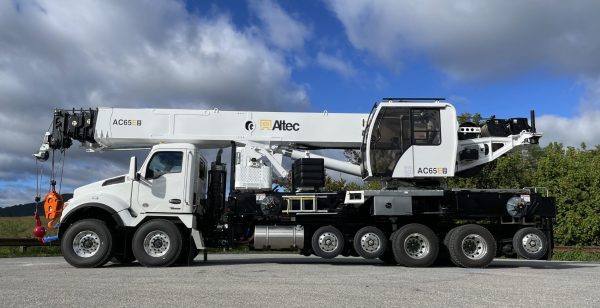 Manitex International
What's New: ECSY-Electric Crane System
Manitex International introduced its ECSY-Electric Crane System as a new module option for the Manitex TC series cranes. The system is designed for job sites that require reduced noise and emissions.
Designed with a 480-volt electric motor and a variable displacement hydraulic pump, the ECSY allows for prolonged on-site use, drawing from local power sources. The system also offers a self-contained pin-on configuration, ensuring easy transitions between cranes in "ECSY Ready" fleets.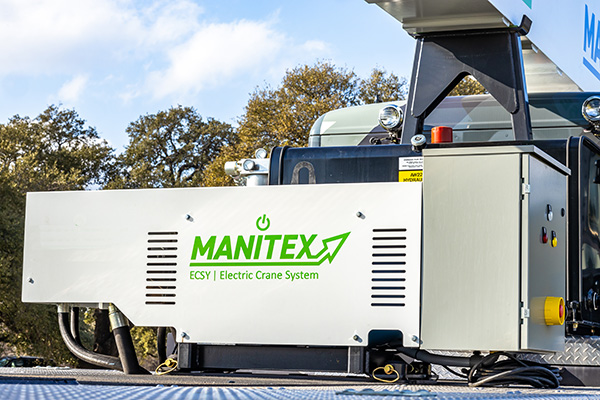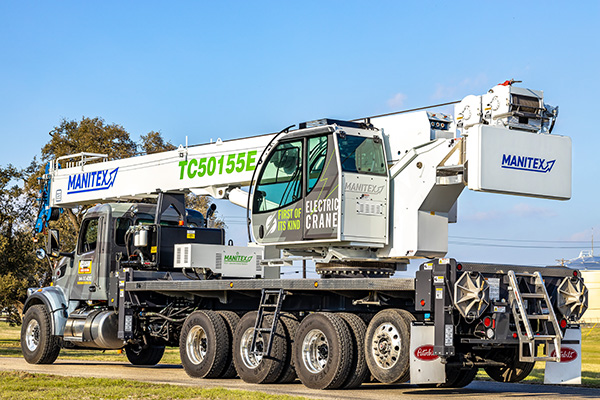 DICA
What's New: ProStack Slot Lock Interlocking Cribbing Blocks patent
DICA recently received a patent for its ProStack Slot Lock Interlocking Cribbing Blocks.
The patent (U.S. Patent 11,479,939) is for the slot and flange interlocking system. Each block has a flat lower surface with downward extending lips positioned at opposing ends of the lower surface. When the blocks are stacked and pressure is applied, the blocks lock together, allowing users to safely gain cribbing height in unlevel conditions.
"Slot Lock Cribbing Blocks can be used under medium-sized equipment with stabilizer or outrigger reaction forces up to 100,000 pounds, such as aerial lifts, digger derricks, concrete pump trucks and knuckle boom cranes," said Kris Koberg, DICA's CEO.
The interlocking system can be used independently or integrated with slotted SafetyTech Outrigger Pads to increase bearing area and decrease ground-bearing pressures. Each layer increases the cribbing height by 5 inches.
The cribbing blocks are composed of a blend of post-consumer and post-industrial recycled material. According to DICA, this material mixture provides users with an eco-friendlier, longer-lasting solution that won't splinter, crack or rot.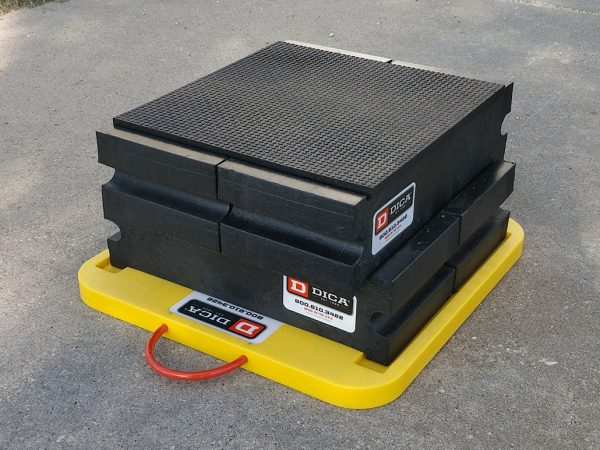 Manitex International
What's New: TC850 Series truck-mounted crane
Manitex International introduced the all-new TC850 Series truck-mounted crane at CONEXPO-CON/AGG earlier this year.
The TC85159 features an 85-ton base rating at a 10-foot radius and a five-section, 159-foot, full-power, proportionally extended boom with a 168-foot tip height. The machine also offers a 228-foot tip height with an optional two-piece, 30-foot to 60-foot bifold offset lattice jib.
With a 360-degree area of operation without needing a front (fifth) outrigger, the machine's all-new outrigger design allows the operator to set up quickly in confined spaces and on uneven terrain.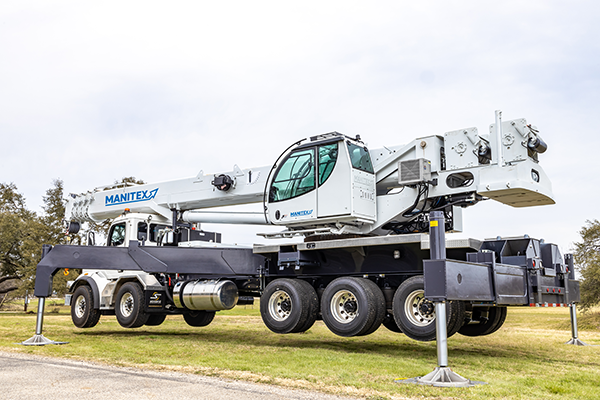 What's New in Aerial Lift Equipment in 2023?
---
Sean M. Lyden
Sean M. Lyden is the editor of Utility Fleet Professional magazine.
---