Using Power Tools in the Bucket
Lineworkers rely on a variety of tools when working from the bucket of an aerial device. Safe work practices require that these tools not create additional exposure to electrocution. Hand tools – such as bolt cutters, knives, pliers and wire strippers – are often made of metal. So, when employees are working in aerial devices, employers typically require hand tools to be insulated with layers of nonconductive material, such as plastic or nylon.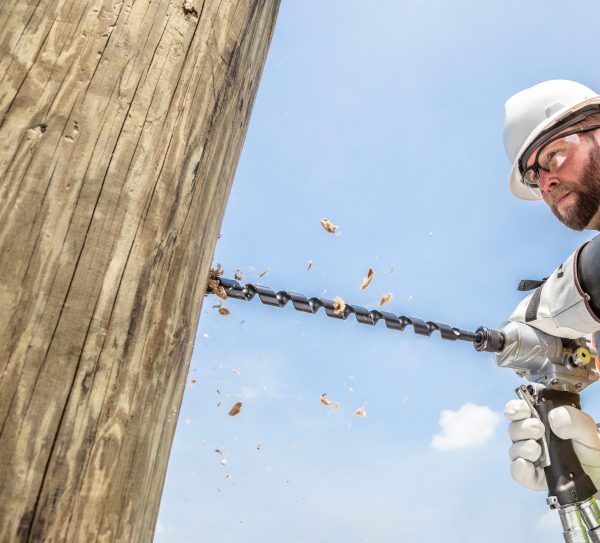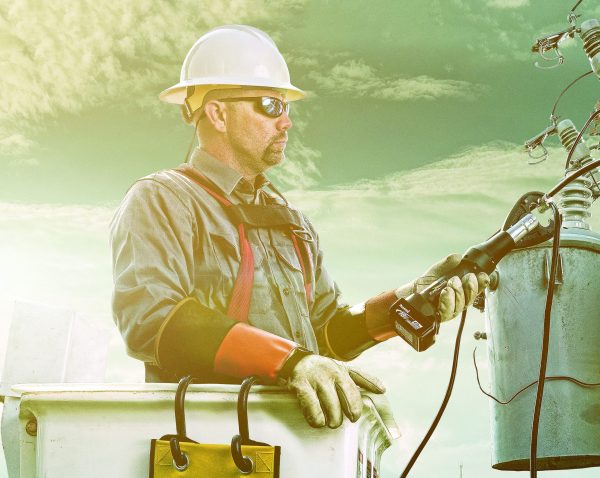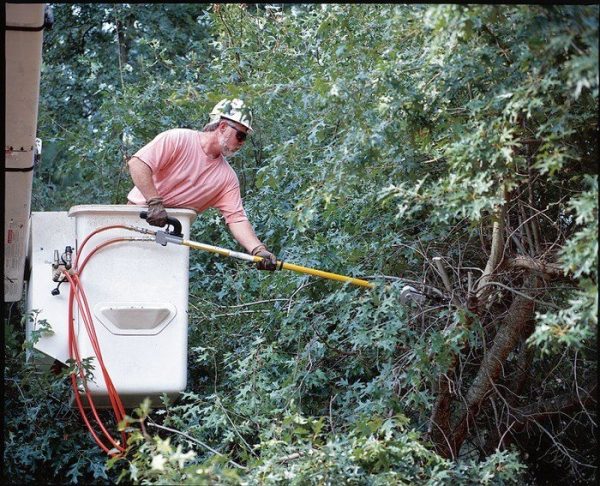 Power tools (e.g., drills, impact wrenches, circle saws, chainsaws, crimpers, cutters) are also used in the bucket. Historically, hydraulically powered tools were the only option available, but trends are changing and options for battery-powered equipment are expanding. The remainder of this article offers discussion on the pros and cons of each type, plus tips for the safe use of hydraulic power tools.
Hydraulic vs. Battery Power
Whether to choose hydraulic or battery power for your tools will be determined by your employer's practices and preferences. Today, some companies are moving away from low-pressure hydraulic systems in trucks and do not require hydraulic tool circuits; they instead favor using battery-powered tools, although there are still some instances in which hydraulic tools are more suitable for the task. For example, tools including long-reach chainsaws, tampers, ground-rod drivers and pole pullers work best on a hydraulic system as the amount of overall energy needed to use these tools is not available from a battery.
Hydraulic tools have other benefits as well, including ruggedness and durability. Not only that, but you cannot replace insulating saws commonly used today with battery-operated or gas-powered tools; that's because hydraulic is the only option that delivers the power as well as the long runtime needed while also keeping the cutting tool insulated from the operator, which is critical to safety.
There are some downsides to using hydraulic tools when a battery-powered option is available. A hydraulic tool is often more cumbersome compared to its battery-powered counterpart. The weight of a hydraulic tool and hoses – plus an intensifier if needed – can mean more weight in the platform than what a battery-powered tool weighs.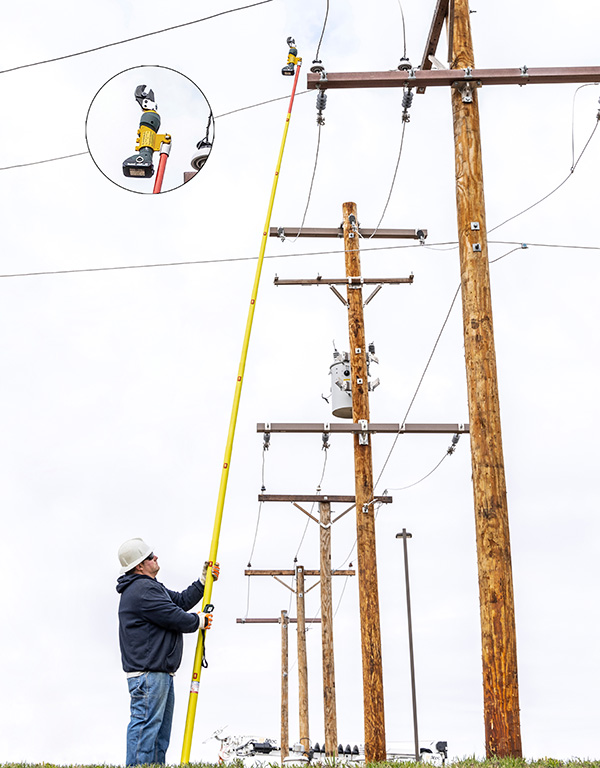 Battery-powered tools are quickly advancing with new technology that allows users to operate the tools remotely and more ergonomically. Aside from those advantages, battery tools also offer other benefits compared to hydraulic tools. Removing the need for a hydraulic hose or cord can make tools more maneuverable, especially in a small space like a bucket. Additionally, new advancements have led to the development of hydraulic battery-powered tools that offer 1,000 volts of insulation. So, in combination with insulating PPE worn by the operator, these tools can help utility workers achieve another layer of insulation.
The remote tool operation feature now available in some battery-powered tools can help reduce potential risk to the operator when compared to historic work practices and tools. Operating a tool remotely allows the user to put more distance between themselves and potentially energized lines. For example, tool operators can attach a remote cutter or crimper to an insulating hot stick to reach the line instead of having to reach directly from the bucket. Depending on the situation, the work may even be able to be performed from the ground using an extendable hot stick.
Tool intelligence features available in enabled battery tools can provide operators with more insight into the tools' performance by providing, for instance, crimp force confirmation and cycle counts information. The crimp force confirmation can be used to provide quality assurance so that the operator has little doubt that a termination was done properly. Cycle counts information provides insight into tool usage, which can aid in ensuring proper tool maintenance, potentially reducing downtime caused by a tool failing to perform on the job.
In many applications, battery-powered tools are delivering power comparable to hydraulic tools in a lighter package with smart technology and intelligence for aerial work practices. A key item to keep in mind when using battery tools is that you must monitor battery life and keep the tool charged; having extra batteries on hand can help to eliminate the risk of downtime.
Whether you opt for hydraulic tools or the battery-powered variety, all tools and accessories must be inspected, maintained and operated in accordance with manufacturer instruction manuals and the safety rules that apply to all aerial device applications.
As a reminder, workers should be aware of the dangers of cross-phasing at the boom tip and never bring any conductive object from outside the platform to the inside of the platform. This includes extension cords, guy wires, conductors and power tools; they will eliminate the insulating benefits of the machine. Tool holders and tool trays must also be made of nonconductive material.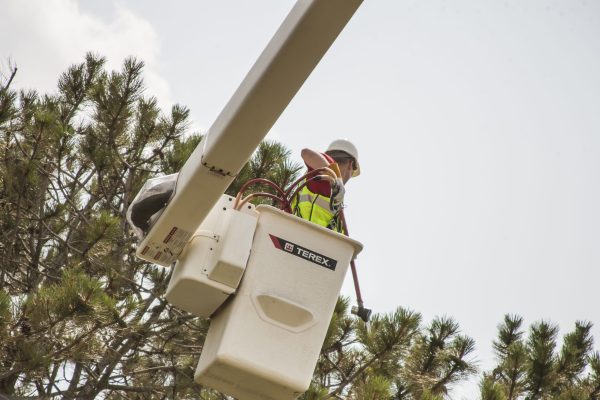 Tips for Using Hydraulic Power Tools
Hydraulic power tools must be equipped with orange nonconductive hoses to prevent cross-phase creation. In the bucket, hydraulic couplers must not be exposed where they can make contact. Some tools have fiberglass extensions to increase reach and help reduce the chance of electrical injury. Users should be aware that hydraulic oil is flammable and can catch fire if an arc occurs.
It's possible to use hydraulically powered tools on the ground if the truck is equipped for it. The same precautions are critical to prevent electrocution. Most trucks are equipped with wire-reinforced hoses on reels for use on the ground because this type of hose is more durable. For this reason, there must be an insulating section – often called a whip hose – between the tool and the wire braid hose from the truck to keep the worker isolated and to reduce the chance of tool operator electrocution should the vehicle or boom become energized.
There are two types of hydraulic systems: open center and closed center. The type of hydraulic system used by the tool must match that of the truck; otherwise, the hydraulic system and tool will overheat. Most hydraulic tools can be switched for use on either system, but workers should verify with the tool manufacturer and their employer how to do so properly. Likewise, the type of oil used in the tool and on the truck must be compatible because the tool is run by the truck's hydraulic oil supply. Hydraulic hoses rated less than the operating pressure should never be used. In addition, do not operate hydraulic tools on high speed for an extended period without stopping. Continuous operation can cause overheating and possible damage to the hydraulic system. The tools and tool hoses, like all other components of an aerial device, must be inspected before each use for leaks and damage and to ensure proper operation.
Conclusion
Hydraulic tools in combination with battery-powered tools may be the best of both worlds. There are more people in buckets today than ever, and both types of tools can provide reliable solutions that, when properly applied, can efficiently accomplish the work required.
About the Authors: Ryan Berg is the director of product management – utility for Emerson's Greenlee and RIDGID brands. In coordination with engineering and manufacturing, he leads the development of new products as well as improvements in current products.
Jim Olson is senior product engineer at Terex. He has been working with aerial devices and digger derricks for more than 39 years, and with mobile hydraulic equipment for much longer.
Using Power Tools in the Bucket