Flattening the Curve? The State of Transportation Electrification During a Pandemic
A perfect storm of geopolitical forces flooding the world's oil supply and COVID-19 causing global governments to temporarily shut down their economies has precipitated a steep drop in gasoline and diesel prices in recent weeks.
So, what does this mean for the electric vehicle market?
After all, conventional wisdom says that cheap gas will put the brakes on the demand for alternative fuels, including electricity.
But Karl Popham, manager of electric vehicles and emerging technologies at Austin Energy, a public power utility and a department of The City of Austin, Texas, believes that demand for electrified transportation likely will continue to grow despite oil prices at historic lows.
Why? Popham points to four trends.
1. Electricity prices should remain stable while oil costs continue to fluctuate.
"Anyone who's betting long term that the price of oil is going to stay at historic lows, I think their head's in the sand a little bit," Popham said. "Electric has, for decades, been extremely stable at just under $1 per gallon of gas equivalent energy output. It's arguably the most stable commodity in the world. When you look at the historic trends, electricity prices stay flat. But prices at the gas pump swing up and down."
U.S. Department of Energy data supports Popham's claim. Take a look at the DOE's "Average Retail Fuel Prices in the United States" chart. The electricity "fuel" price trend is the light green, relatively flat line toward the bottom of the pricing chart compared to the roller-coaster volatility of most of the other fuels, including gasoline and diesel.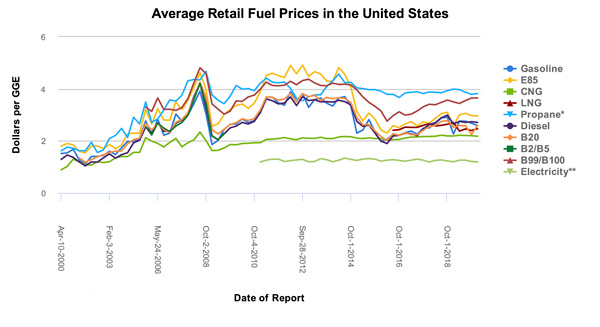 What is it that makes electricity prices more stable than oil?
"[Oil prices] can be impacted by a crisis in the Middle East or even a major storm in the U.S. coming through and knocking out some refineries," Popham said. "And then you have the speculator market that causes the prices at the pump to fluctuate daily versus the go-to stability of electricity, which is produced locally. All the supply chain [for electricity] is handled locally and regionally versus being at the whim of global factors, like conflicts in the Middle East and other geopolitical events outside of our control."
If you're interested in digging deeper into the assumptions behind the DOE's eGallon calculations, visit www.energy.gov/maps/egallon.
2. The business case for electrification involves more than fuel savings.
Historically, the lower the price of gasoline and diesel, the longer it would take to recoup the higher incremental cost of electrifying the vehicle.
In other words, plummeting oil prices should equal lower EV demand.
But that correlation doesn't appear to be as dependable today. Why?
As battery costs have dropped in recent years, the price gap between EVs and internal combustion engine (ICE) vehicles has narrowed significantly, dampening the impact of low oil prices on the demand for electrification.
To give you a frame of reference, according to the latest forecast from research company BloombergNEF (https://about.bnef.com), battery prices – which were above $1,100 per kilowatt-hour in 2010 – have fallen 87% to $156/kWh in 2019. And that trend is expected to continue with average prices falling to $100/kWh by 2023.
But then consider that regardless of where oil prices might be on any given day, EVs still cost less to maintain because they have fewer moving parts and don't require oil changes and other types of service like their ICE counterparts.
How much less?
Popham pointed to a 2018 study by Rocky Mountain Institute conducted in partnership with The City of Austin and Austin Energy titled "Ride-Hailing Drivers Are Ideal Candidates for Electric Vehicles" to offer a frame of reference (you can find the full report at https://rmi.org/ride-hailing-drivers-ideal-candidates-electric-vehicles/).
"[The RMI study] shows that Uber drivers who drive sedans can save about $5,200 per year in Austin by going electric," Popham said. "And that savings is almost evenly split between fuel and maintenance."
In other words, even if you take out potential fuel savings in your business case calculations, you could expect around $2,500 to $2,700 (for sedans) in annual savings in maintenance costs alone.
3. EV charging infrastructure continues to expand.
Fueling infrastructure is a critical factor in driving demand for any type of alt-fuel vehicle development.
And Volkswagen Group of America's 2016 emissions scandal settlement with the U.S. government is helping spur EV demand by funding fast-charging infrastructure development to the tune of $2 billion over 10 years.
To fulfill the requirements of the settlement, Volkswagen created Electrify America LLC (www.electrifyamerica.com), which expects to install or have under development approximately 800 total charging stations with about 3,500 DC fast chargers by December 2021. During this period, the company will be expanding to 29 metro areas and 45 states, including two cross-country routes.
"Just about every state is rolling out funds from the Volkswagen settlement funds," Popham said. "California got the biggest allocation. But Texas still got a pretty big chunk – just shy of about $200 million for several programs, which we're starting to see come to fruition."
4. The pandemic may impact consumer sentiment around fueling habits.
COVID-19 may have caused the public to rethink their daily habits to avoid getting sick.
A case in point: Touching fuel pumps at public stations.
"You can look at just about any study and see how dirty gas-pump handles can be," Popham said. "With the number of people who touch that pump every day, you can imagine the exposure people can get to all kinds of nasty germs. But with electric, instead of having to touch a public gas station nozzle, people can treat their EV like their smartphone. They go home, plug it in – or, in some cases, drive over an inductive [wireless] charging mat. You go to sleep, wake up and the vehicle is ready to go. That's emerging as a powerful business case today."
The Bottom Line
Before the coronavirus shutdowns and the steep drop in oil prices, EVs represented a tiny, low-single-digit percentage of the overall vehicle sales in the U.S. Still, most signs appeared to be pointing toward an all-electric future in transportation at some point in the next couple of decades.
The question is, have recent events "flattened the curve" of EV growth?
According to Popham, the answer is no. And these four trends help explain why.
---
Sean M. Lyden
Sean M. Lyden is the editor of Utility Fleet Professional magazine.
---