Green Fleet Technologies
Eaton
The developer and manufacturer of hybrid power systems for commercial vehicles, Eaton's parallel hybrid systems are already in use in many utility fleets. Available through truck manufacturers, the systems include the electric hybrid solution featuring an engine-off power-takeoff (ePTO), and an optional auxiliary power generator and AC power panel for utility, telecom and municipal operations using medium-duty bucket trucks.
The Eaton electric hybrid power system maintains the vehicle's conventional drivetrain and blends engine torque with electric torque. The system recovers power normally lost during braking and stores the energy in batteries. It can provide ePTO and work site capability for operations needing hydraulic and electric power on job sites. The system is coupled with the vehicle's engine and Eaton's UltraShift automated manual transmission and clutch. Between the output side of the clutch and the transmission, the system includes an electric motor/generator that is connected to a power inverter and lithium-ion batteries, and is controlled with an electronic control module.
Eaton also offers its Hydraulic Launch Assist (HLA) hydraulic hybrid system. During regeneration with the HLA system, the vehicle's kinetic energy that is normally lost during braking is captured and used to drive a pump, which transfers hydraulic fluid from a low-pressure reservoir to a high-pressure accumulator.
As the fluid pumps into the accumulator, it compresses nitrogen gas and pressurizes the system. The regenerative braking captures about 70 percent of the kinetic energy produced during braking. For acceleration, the fluid in the high-pressure accumulator is released to drive the system's motor, which propels the vehicle by transmitting torque to the driveshaft.
The Eaton HLA system has two different operating modes: economy and performance. In economy mode, the energy stored in the accumulator during braking is used to initially accelerate the vehicle. Once the accumulator has emptied, the engine will begin to perform the acceleration. In performance mode, acceleration is created by both the energy stored in the accumulator and the engine. Once the accumulator has emptied, the engine is completely responsible for acceleration.
Visit www.eaton.com for more information.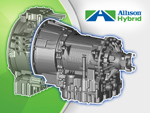 Allison
Working with Delphi Automotive and Remy International, Allison has developed a hybrid propulsion system for medium-duty trucks. The new technology combines an Allison 3000 Series automatic transmission, Remy International's High Voltage Hairpin (HVH) electric motor-generator, and Delphi Automotive's lithium-ion energy storage system and transmission control module.
The Allison Hybrid, according to the company, combines the benefits of the three suppliers' systems to offer better fuel economy. Among the fuel-saving features of the Allison automatic is the manufacturer's torque converter technology that is designed to provide for full power shifts, using engine power more efficiently and consuming less fuel. The Remy HVH electric motor-generator, Allison also notes, is a compact design that captures more braking energy while using less energy to generate propulsion power and torque.
Tailored to meet the specific needs of any medium-duty truck application, the Allison Hybrid utilizes Delphi's scalable lithium-ion energy storage system. The Delphi modular design also includes a transmission control module with the computing capability, memory and processing speed to control the entire hybrid system.
Visit www.allisontransmission.com for more information.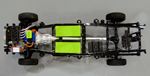 ALTe Powertrain Technologies
Range-extended electric powertrains for light- and medium-duty vehicles up to 26,000 pounds GVW will be available from ALTe initially through a nationwide network of conversion facilities. Eventually, ALTe expects to sell and license its technology to OEMs.
The major components of the ALTe powertrain include a 20 kWh lithium-ion battery pack, a four-cylinder engine, electric drive motors, a generator, a proprietary hybrid controller unit and HVAC modules. The powertrain is projected to provide an initial 30 miles of driving in an all-electric mode, powered directly from the lithium-ion battery pack. The vehicle can then drive an estimated additional 275 miles in a charge-sustained mode before the vehicle would need to be either plugged in or refueled. The battery pack can be charged within an eight-hour time frame from a 110-volt outlet or in about four hours from a 220-volt outlet.
ALTe, a shortened version of the words "alternative energy," recently announced a contract with Remy to supply HVH 250 electric motors that will act as onboard generators to recharge batteries and deliver electric drivetrain traction power for ALTe's powertrain conversions. A joint venture with Inmatech Inc. will produce hybrid electric storage devices composed of batteries, supercapacitors and control electronics. An agreement between ALTe and Manheim will provide installation of its powertrains in vehicles at Manheim locations.
Visit www.altellc.com for more information.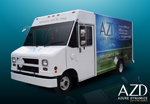 Azure Dynamics
The Balance Hybrid Electric vehicle from Azure Dynamics is built on a Ford E-450 commercial stripped or cutaway chassis with a modified drivetrain and electronic controls system. The system's traction motor, in parallel with the unit's Ford 5.4-liter EFI FFV gasoline V8 engine and automatic transmission, propels the vehicle. The traction motor assists acceleration and captures energy during regenerative braking events. This energy is stored in the energy storage system (ESS). When the vehicle comes to a stop, the engine will shut off and the electric power assist system is enabled to maintain power steering, power brakes and 12-volt charging.
The Azure system also has an integrated starter generator mounted to the front of the engine, which is used to provide quick restarts of the engine when accelerating from a stop. It also generates power to charge the ESS. The high-voltage system is self-contained and does not have to be plugged in to an external power source for charging.
Visit www.azuredynamics.com for more information.
Odyne Systems, LLC
The Odyne hybrid propulsion system for medium- and heavy-duty work trucks with extended stationary PTO job site functions – such as bucket trucks, digger derricks and cranes – can be applied to most new chassis or as a retrofit. The Odyne plug-in hybrid drive system uses a Remy HVH 250 electric motor, and provides 50-HP launch assist capability, regenerative braking or plug-in charging, and electrical energy storage to power air conditioning and cab heaters while the engine is off. Exportable power up to 7000W is available from the system's 14 kWh or 28 kWh lithium-ion battery pack.
The Odyne hybrid system is compatible with most chassis over 14,000 pounds GVW and does not require drivetrain modifications. The system's integration is simplified through the power takeoff (PTO) and propulsion components are placed within chassis frame rails for ease of installation. Battery packs can be placed in a variety of locations
Visit www.odyne.com for more information.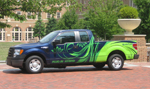 Quantum Fuel Systems Technologies Worldwide Inc.
Quantum Fuel Systems Technologies offers a plug-in hybrid electric (PHEV) conversion for Ford F-150 model pickup trucks. Pilot vehicles will be available for fleet testing in the fourth quarter of 2011. Production at the manufacturer's Lake Forest, Calif., facility is scheduled to begin in the third quarter of 2012. Base vehicles shipped to the facility are partially disassembled, the new drive system is installed and tested, and the vehicle is reassembled and shipped to the customer.
The Quantum PHEV is powered by the company's F-Drive hybrid drive system, developed specifically for Ford F-150 4×4 Regular and SuperCab models with a 145-inch wheelbase. The system provides a 35-mile electric-only range, shifting to hybrid electric mode for a total range of more than 400 miles. The F-Drive has been integrated in the F-150 pickup truck to ensure there is no loss of cab or cargo space, and to maintain full ground clearance. F-150 models with the Quantum system have a payload capacity up to 900 pounds and towing capacity up to 5,800 pounds. The 150 kW parallel hybrid drive system can be recharged using 110- or 220-volt power.
Quantum provides a five-year/75,000-mile limited warranty on the drive system. The company also trains fleet maintenance personnel on servicing the system and has an on-call team available to support customer fleet maintenance departments.
Visit www.qtww.com for more information.
Technology, Green Fleets, Hybrid Vehicles
---
Seth Skydel
Seth Skydel has not set their biography yet
---