New 2023 Products to Watch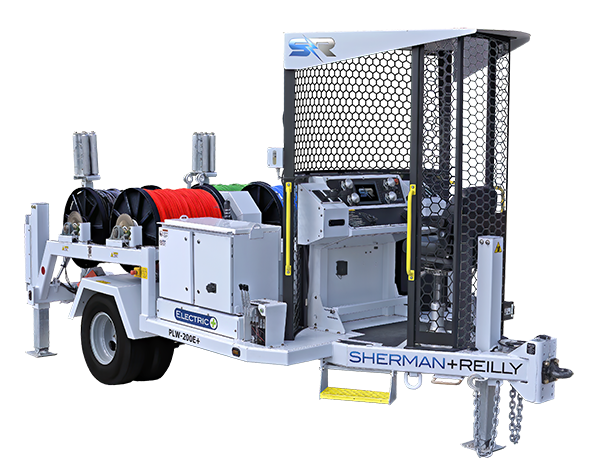 Sherman+Reilly PLW-200E+ (Booth E1047)
www.sherman-reilly.com
The Sherman+Reilly PLW-200E+ four-drum electric pilot line winder delivers all-electric operation with The Onboard Rapid Recharge System by S+R, providing superior performance and automatic battery management so the operator can focus on the job at hand. With all the capabilities of our standard PLW-200H, the E+ has an all-electric drivetrain designed to exceed all-day use. The Onboard Rapid Recharge System responds automatically, without input from the operator, until the work is done, no matter how tough the job gets. The PLW-200E+ has a pulling capacity of 2,000 pounds and a single-drum capacity of 6,000 feet of 7/16 rope. In addition, S+R Telematics comes standard at no cost, providing industry-leading support in real time. Plus, a 10-inch touchscreen located on the dashboard incorporates how-to videos and the operator's manual from the safety of the Safe-Zone enclosure with Ocu-View.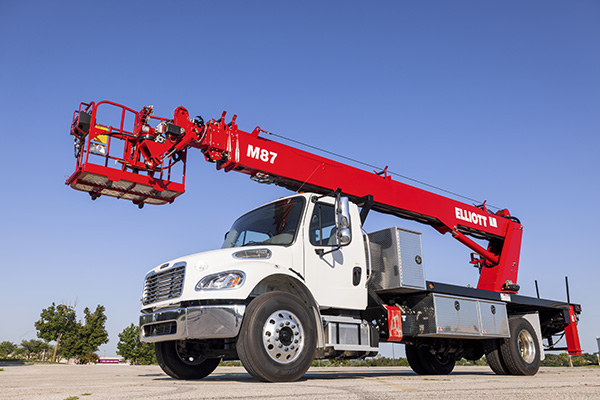 Elliott Material Handling Aerial Work Platform (Booths E1436, N553)
https://elliottequip.com
Elliott Equipment Co.'s latest product, the M87 Material Handling Aerial Work Platform, has an 87-foot working height and 77-foot side reach. The M87 provides unmatched access for utility, construction and maintenance professionals. Key features include 2,000 pounds of lifting capacity from its main boom winch and 500 pounds from its platform jib winch. The hydraulically self-leveling platform with 180-degree rotation ensures optimal positioning, reducing setups and strain on operators. The M87 stands out as it can be mounted on a 25,999-pound chassis. No CDL is required, saving costs and increasing operational flexibility. The M87 is certified to ANSI A92.2 in all modes of operation. It is also backed by a lifetime structural warranty.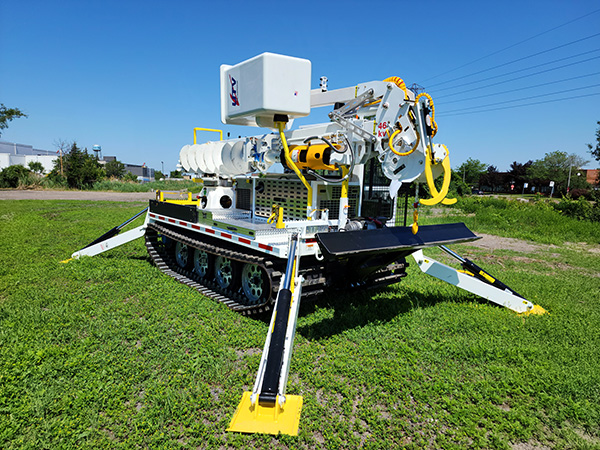 UTV International Achiever RT-02 Digger Derrick (Booth E1015)
www.utvint.com
Starting from the ground up, the RT-02 is designed with a lower center of gravity, wider tracks and deeper treads. As a result, they balance perfectly, attack harsh terrain with ease and keep ground pressure at an all-time low; the Achiever RT-02 will never surpass a ground pressure of 3 psi when loaded. Additionally, the track height offers a 3-foot fording depth. The 134 horsepower of turbocharged diesel engine, when combined with its lighter weight, pumps out about 15 horsepower per ton for one of the highest power-to-weight ratios in the industry. What's more, it can conquer steep slopes, hills and small mountains with ease, plus it is light enough to be towed on a 12-ton trailer behind a single-axle line truck.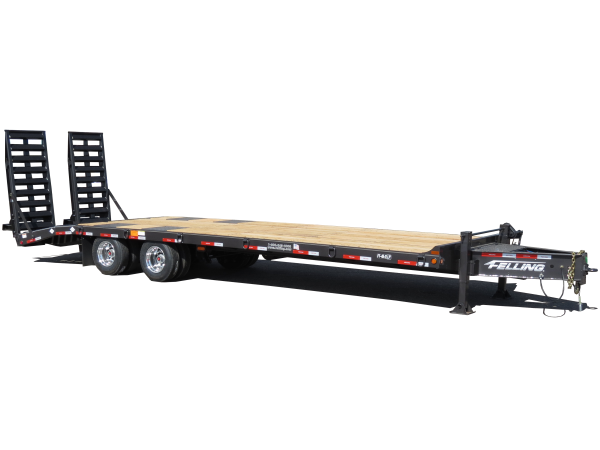 Felling Drill Series Trailer (Booth K125)
www.felling.com
Operators work safer and faster when they trust their equipment and its capabilities. Felling's Low Pro Drill Series provides that confidence with the double incline beavertail that reduces the top break over in half. The trailer is the ideal unit for transporting directional boring machines (horizontal directional drills). The Drill Series is equipped standard with 25K heavy-duty three-leaf springs and 9700 Hutch 49-inch spread spring suspension. Felling offers Low Pro Drill Series deck-over flatbed tag trailers with 30K-50K capacities.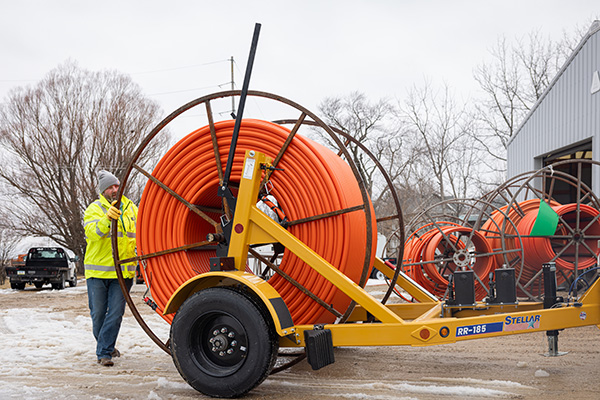 Stellar Single- and Multi-Reel Trailers (Booth N111)
www.stellarindustries.com
Hauling, removing and laying wire and cable is quick, easy and convenient with Stellar Utility and Telecom Single-Reel and Multi-Reel Trailers. Perfect for transporting conduit, capillary tubing, inner duct and many other types of reel-mounted material, Stellar Reel Trailers keep cables neatly contained and organized so they don't get tangled or damaged. They're designed for one-person operation, and no forklift or crane is needed to load and unload a reel on self-loading single- and multi-reel models. Drop-on multi-reel trailers are also available. All Stellar Reel Trailers feature DOT-approved LED lighting and heavy-duty construction for durability. Other available features, depending on the model, include 360-degree hydraulic rotation, electric brakes, locking collars, grounding lugs and drop-leg rear-stabilizer jacks.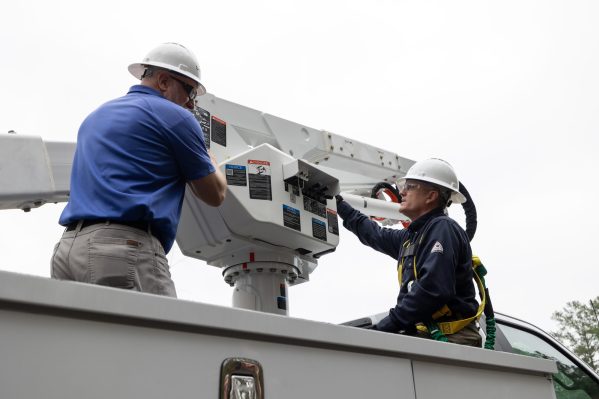 Altec Sentry Operator Training (Booth E134)
www.altec.com/safety
For nearly 20 years, Altec Sentry has helped employers train and certify Altec equipment operators on safe and proper operation. We are committed to your safety and believe that industry-leading equipment deserves industry-leading training. Altec Sentry offers a variety of instructor-led and online training courses for aerials, derricks and cranes. These OSHA- and ANSI-compliant courses aid in the fulfillment of employer training requirements. General training courses help employers meet the requirements for operator qualification when paired with familiarization and hands-on training. Altec Sentry also offers numerous familiarization courses covering basic safety and operation procedures for specific Altec units. Each course provides a record of training upon completion. For customers looking to take ownership of their safety program, Altec Sentry offers a train-the-trainer program. We will instruct a customer's safety liaison through training that they can then administer themselves to their organization's operators. Altec Sentry will also assist customers in documenting and maintaining records of employees who have completed training.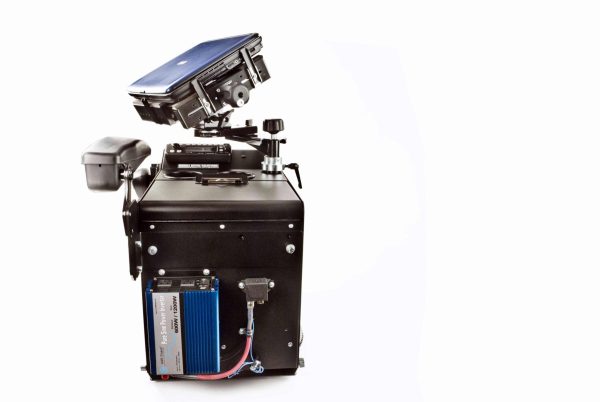 Mobile Desk Utility Truck Consoles (Booth S3758)
https://mobiledesk.com
Mobile Desk/Mobile Office Solutions is recognized as the world's leading manufacturer of electronic utility truck consoles for America's biggest and best electric utilities. Our electronic control center (ECC) units provide a simple, consolidated solution for almost any type of company looking to streamline and simplify their electronic needs. Our full-size electronic consoles consolidate all of the included features of our ECC units with the added value of full storage; magnetic cup holders; power distribution; adjustable armrests; hanging file support; magnetic accessories; 12-volt and USB C and C+A power; and laptop and tablet mounting solutions.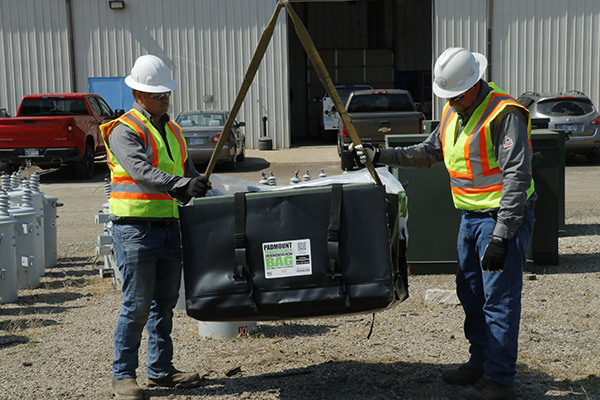 Andax Transformer Containment Bag (Booth S2819)
www.andax.com
Andax Industries is proud to announce a new addition to the Transformer Containment Bag product line: the Pad Mount Transformer Containment Bag 095-BC (TCB-095-BC). The TCB-095-BC is a containment solution for leaking and non-leaking electric utility pad-mount transformers. It is an extremely strong, puncture-resistant containment solution for the prevention of leaks and spills during changeouts and transportation and can help prevent electric utility employee accidents and environmental damage caused by leaks and/or contamination. The TCB-095-BC includes a clear outdoor weather cap to allow for simple, safe, outdoor weather-resistant storage while also providing Department of Transportation compliance while transporting transformers. The TCB-095-BC is designed to provide complete access to the transformer manufacturer's lifting lugs, allowing for 100% OSHA compliance while lifting, moving and storing the transformer, thereby helping keep the line crew members safe. The standard Transformer Containment Bag sizes accommodate transformers of various sizes by use of adjustable height caps with straps and buckles. For example, the TCB-095-BC is 46 inches long by 36 inches wide with a variable height from 30 to 36 inches. Fast turnaround and custom sizes are also available to meet customers' exact needs for any size transformer.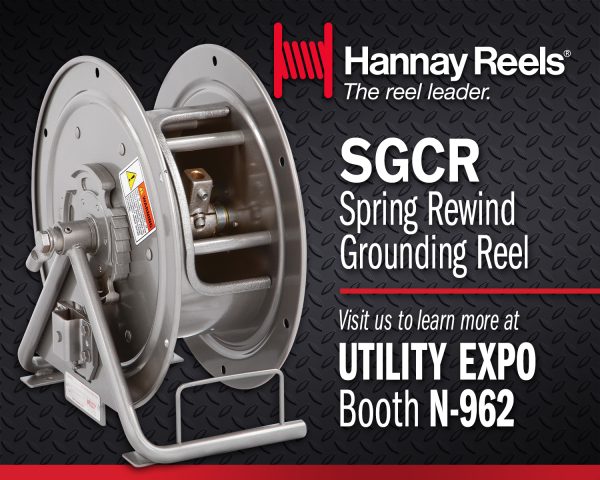 Hannay Reels Industry Essentials (Booth N962)
www.hannay.com
When it's your job to maintain essential services, it's vital to work with safe, durable and dependable equipment. The spring rewind grounding reel by Hannay Reels supports safe operations on utility and maintenance vehicles. The reel is used by professionals in the telecommunications, water, electric and natural gas industries. It can stand up to the toughest road conditions and is designed to respond quickly with an easy cable payout. The automatic rewind keeps job sites organized, helping prevent accidents and getting crews back in service fast. The reel has been independently tested to 43 kA for 30 cycles and helps meet OSHA requirements for vehicle grounding.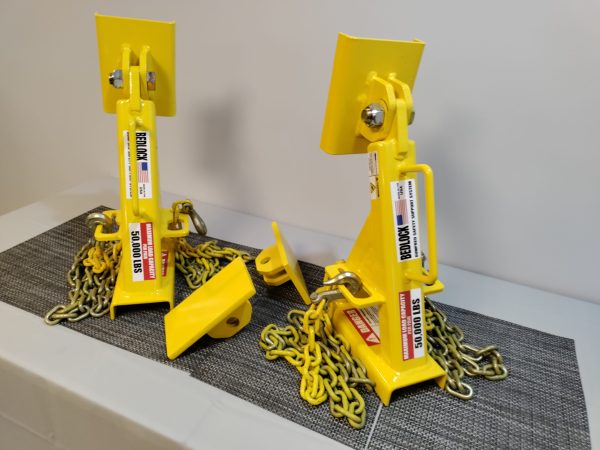 BedLock Dump Bed Safety Device System
https://bedlocksafety.com
BedLock Safety Products LLC is working hard to make your dump truck repair shops safer when doing routine maintenance or cylinder and hose change-outs. Our BedLock dump bed safety device system secures the raised dump box with two chains, two hooks and our exclusive double key slot retention plate. This system allows numerous ways to secure the bed in an upright position, eliminating the threat of a falling dump bed causing serious injury or death.
---
Kate Wade
Kate Wade is the managing editor of Utility Fleet Professional and Incident Prevention magazines. She has been employed by Utility Business Media Inc. since 2008.
---