Data is Driving Utility Fleet Maintenance Decisions
Maintenance schedules based on "the way it's always been done" are trending downward. Instead, more utility fleets are relying on the operational data they collect from onboard technologies to set maintenance intervals and equipment specs.
That's the biggest trend today in fleet maintenance, according to Chris Shaffer, partner at Utilimarc (www.utilimarc.com), a Minneapolis-based consulting and benchmarking firm. "[Utility fleets] are using actual engine hours or miles to trigger service."
That collected operational data also is driving changes in equipment specs with the goal of reducing maintenance costs and improving utilization, Shaffer added.
"There is pressure to rightsize the fleet, and to do that successfully [fleet managers] have to spec the vehicle to improve utilization. They're trying to be leaner, meaner, and that means they have to better spec the vehicle," he said.
Sherry Pinion, director of fleet services for Cobb EMC, an electric cooperative in Marietta, Ga., said that was the idea behind some of the changes the fleet made to its specs.
"We're trying to do a better job designing the vehicle for the job use," she said.
"In the past, all of our trucks' bed configurations were different," explained Chris Hardy, Cobb's fleet services coordinator. "We are standardizing our bed configuration, material quantity, even the material location in an effort to improve inventory tracking, worker efficiency, safety and weight distribution on each chassis," all to improve utilization and reduce maintenance costs.
Indianapolis Power & Light Co. (IP&L) has been using telematics from Telogis (www.telogis.com) for several years to improve truck specs and reduce the turnaround cycle on their trucks, said Les Gose, fleet maintenance manager.
"We're trying to retire equipment before it becomes burdensome on our costs," he said. Better spec'ing has meant reduced downtime and better utilization, which has enabled IP&L to reduce manpower by about 30 percent, Gose added.
Meeting Standards and Sharing Data
A current challenge facing utility fleets' maintenance departments are the changes required to meet greenhouse gas emissions standards, said Charlie Guthro, vice president of North American fleet management for ARI (www.arifleet.com).
"As OEMs adapt and change their engines to meet new regulations, operators continue to struggle to keep their vehicles on the road," he said. "It can be a combination of maintenance requirements or operator education and awareness. As engines become smarter and more fuel-efficient, they become more complicated with increased [onboard diagnostic] warning lights and readings that drivers and maintenance technicians need to diagnose to keep vehicles on the road."
The upside to this and certain other maintenance-related challenges is that, more and more, fleet maintenance departments don't have to face them all on their own. There is now a growing trend among utilities to share operational and maintenance data gathered from onboard vehicle technologies between the two departments.
"Sharing information between them is very resourceful," said John Davis, fleet management consultant for Dossier Systems (www.dossiersystemsinc.com), a maintenance software provider headquartered in Burlington, N.J. "We're seeing improved communications between the two because everyone is now looking at the same data. Having the [truck's operational] information at their fingertips means better decisions, and that means saved money."
Sharing that kind of data gives both the operations and maintenance departments a better understanding of how vehicle use affects maintenance, said Jeffrey Schneider, fleet manager for Louisville Gas and Electric Co. The company will be installing GPS and telematics systems in its fleet of more than 1,800 vehicles with the goal of reducing both operational and maintenance costs.
"We're trying to bring maintenance and operational groups closer together to share more of the vehicle maintenance [data] with the operational side," he said. "The addition of telematics will give our operational people a better idea of how the truck is used."
About the Author: Jim Galligan has been covering the commercial truck transportation sector for more than 30 years and has extensive experience covering the utility fleet market. In addition to writing and editing for magazines, his background also includes writing for daily newspapers, trade associations and corporations.
*****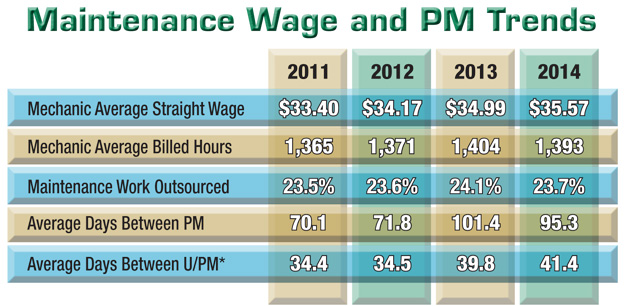 Source: Utilimarc
Maintenance-related wages and work among utility and municipal fleets have not varied much from 2011 to 2014, the latest data available, according to Utilimarc. Data is based on annual surveys of 55 to 60 companies with approximately 150,000 collective units.
The mechanic's average straight wage increased a total of about 6.5 percent from 2011 to 2014. As shown, the average billed hours and outsourced work dropped slightly from 2013 to 2014.
A total of 32 percent of utility companies pay mechanics between $33.57 and $36.59 an hour, while 70 percent of municipalities pay mechanics less than $33.56 an hour, according to 2014 data, Utilimarc said.
It's notable that the average days between preventive maintenance intervals jumped 41 percent in 2013. Many utility and municipal fleets were able to buy new equipment beginning in 2013 after several years of spending freezes, which might account for the extended intervals. Similarly, the average days between unscheduled maintenance also increased from 2011 to 2014, perhaps reflecting the influx of new equipment into the fleets.
-Jim Galligan